25 May 2017 //
Building Materials IndustryCase Studies
Posted on May 25 2017 by Toni Nigrelli-LaFleur
From baby-boomers driving growth in remodeling, to more millennials purchasing homes and willing to take on DIY projects, the building supply industry is seeing the positive effects of the housing market recovery.  However, the increase in remodeling and replacement product demand brings its own set of challenges for manufacturers. Recently, EDL was approached by a North American window and door manufacturer to address these challenges.
The Challenge
In the window and door market, consumers are increasingly looking for products that fit their lifestyles – from trim color to large window and glass doors with clean straight lines, driving manufacturers to expand their current product offering.  In addition, home improvement retailers require product packaging to display a high level of aesthetics and prevent damage from exposure from environmental conditions.
For this window and door manufacturer the wrapping machine needed to be able to wrap products at random and minimize film consumption – a challenge of using one sized film for multiple sized products.
Random Sized Windows Shrink Wrapped with Ease
The solution for a wide range of window sizes? An inline automatic window wrapping system with dual film system to accommodate random product and minimize film consumption.
Method of Operation
As a window enters the wrapping system it engages a centering device designed to center and measure the width of the window.  The width is communicated to assemblies downstream enabling the machine to automatically select the most appropriate width of film and adjust the side sealers to the corresponding sealing position.  Windows are conveyed through the web of film creating a sleeve, followed by the open ends of the packaging sealed and trimmed in a continuous manner.  Excess film is extracted from the machine by a vacuum and deposited in an external collection bin for later recycling.  The wrapped window is finally conveyed through a high-efficiency shrink tunnel designed to provide even air-flow above and below the window for a clean, tight final package with high aesthetics, providing clear viewing of the product within the film.
Watch a video of this window wrapping machine In-action now: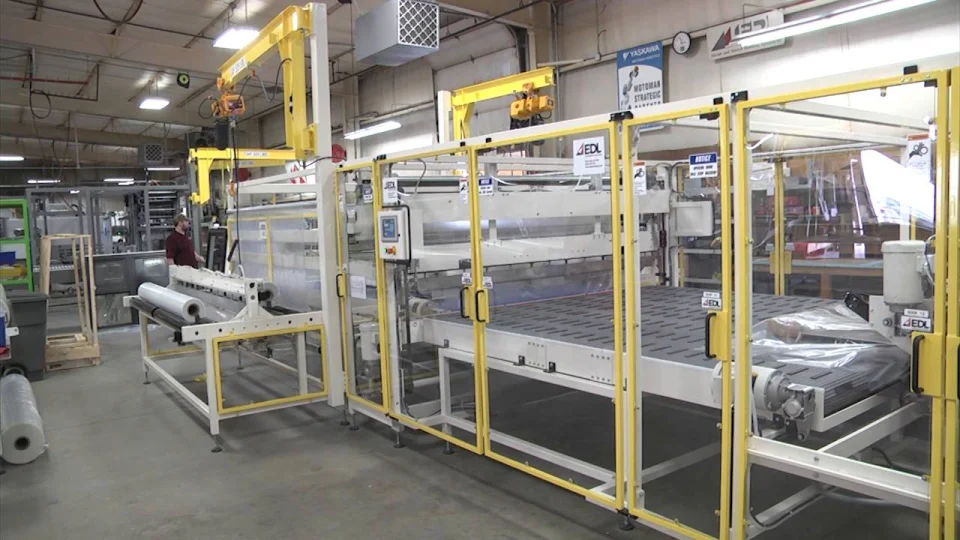 Window Wrapping Machine Benefits
The new window wrapping machine provides additional benefits including:
Minimized film consumption and subsequently material costs
Random-sized windows can be conveyed through the system at an increased speed using rotary hot air side sealers.
The final wrapped window offers additional protection and maintains a high-quality appearance for the retail market.
What Building Product Manufacturers Can Learn from the Window and Door Industry
As consumers buying confidence increases and subsequently the demand for more custom products, manufacturers will need to invest in flexible equipment to accommodate the range of SKUs.  Having the ability to automatically change film rolls to an appropriate size, depending on the product is a trend EDL has seen increasingly – especially for those headed to home improvement retail stores.  Similar features can be found on systems wrapping corrugated boxes of storage units, fencing material, or other panel style products.  The distribution and individual store handling warrants a total enclosure that protect the product from general handling, but from environment conditions as well.
Are you looking to reduce your material costs, but uphold a high level of aesthetics for product placement in home improvement retail stores?  Contact us to discover a packaging solution right for your product.