10 August 2015 //
Case StudiesPackaging Line EfficiencyPersonal Care Products
Posted on August 10 2015 by Toni Nigrelli-LaFleur
It's not often that 20-year-old equipment is the impetus for the purchase of a major piece of packaging equipment, but that's exactly what happened when a personal care manufacturer was looking for a machine that would bundle cartons.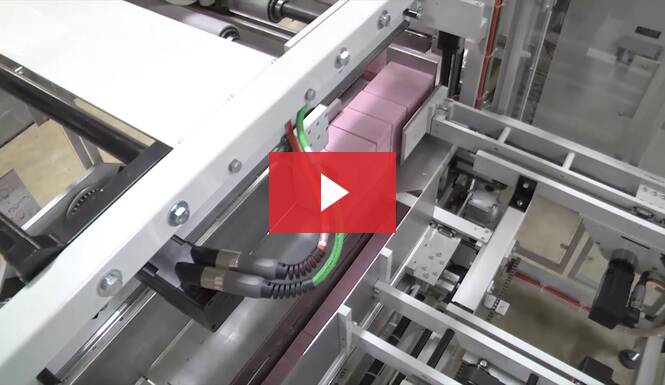 This story starts when one company, a manufacturer of personal care products, was sold to a major global company headquartered in the United States. The new company owner, looking for a more efficient, flexible packaging system than was currently in place, went to one of its plants located in the former Eastern Bloc, saw an EDL Packaging Engineers (EDL) system that had been in place for 20 years, and sought out EDL in Green Bay, Wisconsin.
What was it about the system that had the company so eager to reach out to EDL? Although it was 20 years old (and today somewhat obsolete) the equipment featured exceptional flexibility even by today's standards, bundling a wide range of cartons and pack sizes quickly and with impressive accuracy.
The Need For Flexibility and Speed
Twenty years later, this company still required flexibility, but had an even greater need for speed and efficiency. The new system developed by EDL addressed the company's wide variety of carton sizes, which span several inches in each of the 3 package dimensions. Not only that, but the solution allowed for cartons being received by the system to be collated and orientated into a wide range of bundling configurations and pack sizes, from single non-wrapped product to bundles of a dozen and everything in between. The system also was able to orientate the bundle for proper reception by the case packer at the end-of-the-line – all using the same piece of equipment, with little or no changeover time required.
Adding to the complexity of the situation, the customer had little space in which to install a packaging system. With a small footprint and very high flexibility requirements, this solution was too much for most packaging equipment manufacturers, but one EDL was eager to solve.
Because the company is multi-national, it asked for quotes based on EDL specifications, as well as on global specifications. This meant it could install systems to global specs when necessary, but reduce costs where specs allowed. With EDL specs, the machinery could be placed across the United States and the company was confident that the system installed would be efficient and effective. In addition, the package produced would be universal across all facilities.
Solutions for The Personal Care Industry and Beyond
Once the EDL packaging system was in place and proved successful, the company purchased 5 more, a clear indication of its ability to handle the significant flexibility.
While this example of addressing very demanding situations involves the personal care industry, EDL has developed similar solutions (and almost always for very tight spaces) for a number of industries with varying challenges.
Ken Carter, EDL General Manager, summarizes this case by calling the system as a sort of Swiss Army knife. "What we designed for this company is a multi-functional solution – any carton, any pack size, any orientation. There is no orientation or pack shape and size that can't be created and re-orientated in order to be palletized," Carter said. "There's no changeover needed, no lag time, and no carton size it can't handle as long as it's within the system's specified range. Its servo-driven capabilities give it the exact precision needed for efficiency carton after carton, bundle after bundle. And to be able to do it in the small areas was a challenge but we love a challenge. We haven't found one yet that we can't solve intelligently."
Manufacturers who require this kind of flexibility – regardless of the orientation in which the product is being received or palletized, and the amount of space available – should be confident that a solution is possible. You just have to find the right packaging equipment partner.