19 April 2017 //
Posted on April 19 2017 by Toni Nigrelli-LaFleur
Anyone walking through their local grocery store any time over the past decade can attest to an increase in the availability and sheer number of organic and natural food choices—and industry numbers back it up. In 2016, the Organic Trade Association reported an 11% year over year increase in organic food sales, translating to record sales of $43.3 billion. With the natural food market projected to grow at an annual rate of 3%, food companies must consider how they will meet consumer expectations.
One of the fastest growing manufacturers of natural marinades and salsas recently approached EDL in order to solve a big business challenge: increasing production capacity to satisfy consumer demand. Current manufacturing processes—manually case packing bottles and jars into corrugated shippers—were labor intensive and had reached their maximum throughput.
Managing Multiple SKUs to Meet Customer Demands
Like many smaller food companies, this manufacturer had multiple product SKUs to accommodate consumer tastes and preferences, along with varying packaging material (glass and plastic) and container styles. In addition, its current distribution and supply chain required a range of pack counts and tray styles. In total, the manufacturer had 32 products, in 18 different container styles, and required pack counts ranging from 6 to 24.
The solution for this logistical headache? A single, flexible packaging system that collates products, forms and loads trays, and wraps on a continuous motion inline automatic system.  A custom HMI interface enables the operator to select the product and package, triggering a series of automatic and manual adjusters to accommodate the necessary container type and trays. Once loaded, trays are conveyed through a web of film and sealed, then conveyed through an energy efficient shrink tunnel to create a bull's-eye enclosure.
System features include:
A servo-controlled lane diverter that provides precise width adjustments and lane positioning to accommodate higher throughput speeds.
Adjustable collation lane guides to conform to product size and collation patterns.
An easy-load tray magazine with extended capacity for corrugated tray blanks.
A hot melt glue system and adjustable tray forming design to handle various tray sizes and styles.
Automatic film roll splicing and external side load placement.
A jib crane to assist with film lifting and to comply with ergonomic and safety requirements.
Watch this short video for a system overview: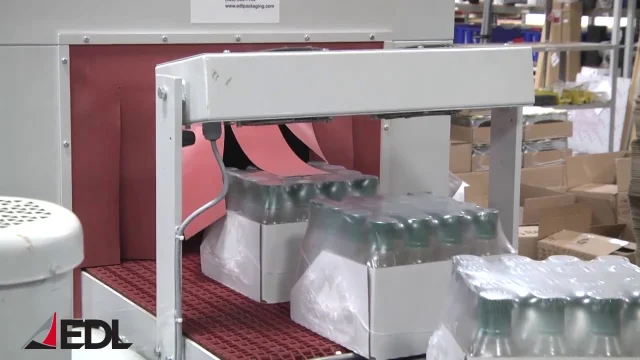 Achieving Business Goals
The new automatic tray loader and wrapping system provided the flexibility the salsa and marinade manufacturer needed to increase its overall throughput and grow its product line. In addition, servo-driven automatic changeover features, an easy-load tray magazine and automatic splicer features reduced overall downtime, manual labor and material costs.
What Small Natural Food Companies Can Learn
Often, manual case packing or reusing corrugate shippers that bottles initially arrive in makes financial sense when throughput rates are low. However, as business goals and expectations change, processes should be reviewed. In many instances, organizations that invest in semi-automatic or automatic packaging equipment find they are able to reduce material, shipping, and labor costs immediately.
In instances where questions arise or hesitation exists about operating automatic equipment, communicating with the equipment manufacturer will alleviate your concerns. They may be able to customize machine features to make processes easier to implement or offer other services like training and preventive maintenance programs.
Are you looking to grow your business but manual case packing throughput rates are holding you back? Contact us to learn more about whether an automated packaging machine is a good fit for you.