18 September 2015 //
Packaging equipment service starts long before any EDL customers receive their machine. Watch this video to better understand how we prepare and check each machine and why our modular design approach makes machine service easier and more convenient.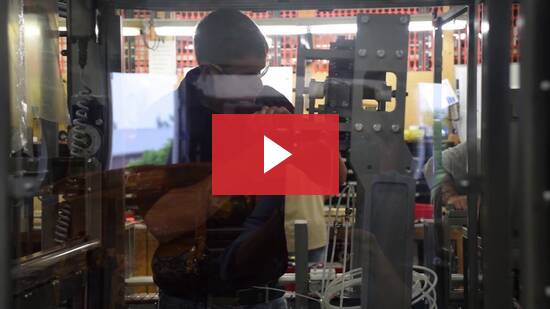 VIDEO TRANSCRIPT
A lot of companies now are trying to reduce the amount of maintenance overhead they have. They tend to go maybe from breakdown to breakdown.
The system we use is that our manufacturing group and controls group get the machines running and when they think it's ready for a customer FAT, they hand it over to the service tech. The service tech then runs it again and does what we call a F-A-T punch list, anything he finds wrong with it.
Now the service tech has a vested interest in checking the machine out because he's the one that's going to go with it to the customer's site and get it running on the customer's site and train people on it. So if it's not right when it leaves here, he's the one who has the problem. So service techs tend to do a pretty good job of testing because they don't want any issues in the field, naturally.
Those guys are the same guys that come along and do planned maintenance visits. They're troubleshooting the equipment, so they all carry laptops. They can all access the PLC, the HMI and they can all make changes. They obviously all have direct line of contact to our controls group, our engineering group. It's not unusual for me to hear that somebody's been on the phone half the night with a service tech if they've got a really difficult issue, like a power issue or something like that or an interference issue which is causing the problem.
A local customer called the other night. They'd had a power outage. All their own systems weren't coming back up. None of the equipment actually came back up on its own. It wasn't until an hour later that they retried it and whatever had happened, that the power was now stable again and they were able to bring the stuff up. In the meantime they'd been calling us making sure we were available to go there in the middle of the night to help them if they needed it.
There's a double benefit from the modular approach. The programs are very similar. There's certain modular logic that goes into each machine. So the service techs, they get very familiar with those modules. They can see quite quickly if something's gone wrong with one of those modules because they're used to seeing similar modules on every machine we build. So they've seen that module many, many, many times before.
We're not reinventing the wheel for, you know, many products. From standard modules you can create an awful lot of tailor-made equipment and the service techs know each one of those modules very well. They know the easiest way to take parts off, replace them, they know when they're wearing and so they can really keep the equipment running in its peak condition.